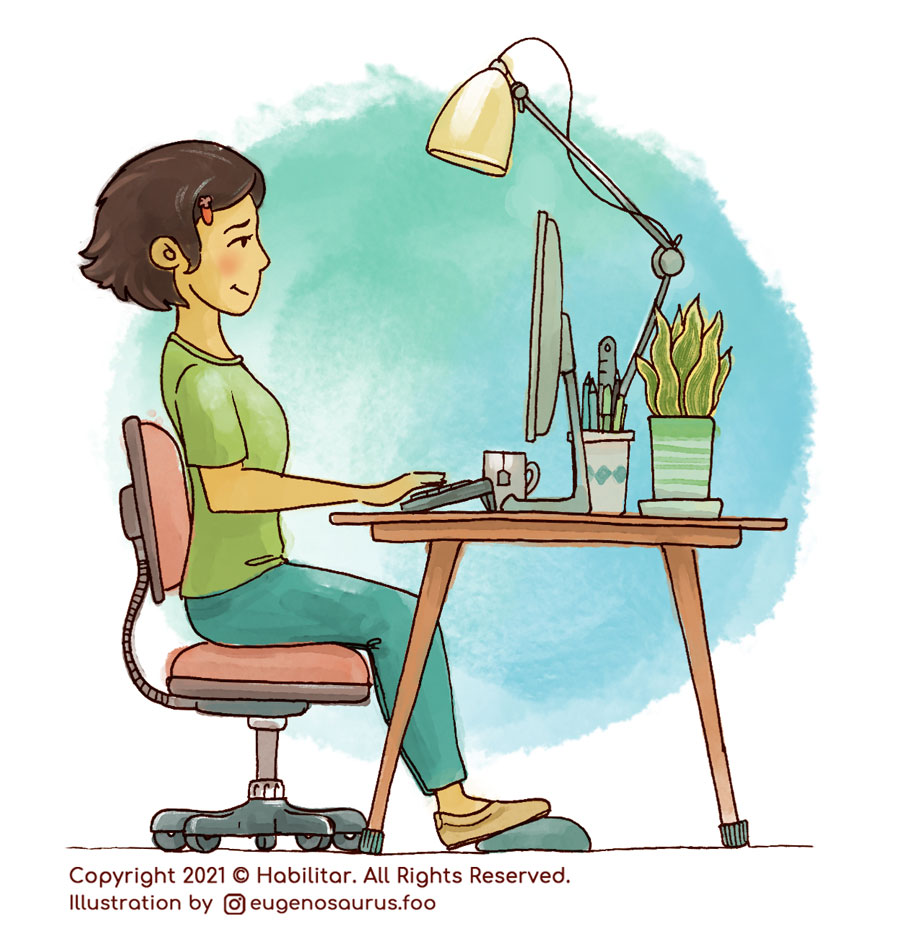 How to set-up a healthy home-working space
More than two years of on and off enforced home-working, and you are still struggling to work effectively and efficiently at home.
Some form of remote and hybrid working is set to outlast the pandemic, yet your home-working set-up and routines are still in "temporary mode".
Even if you have always worked from home, trying to work during a global pandemic has brought new challenges in managing work-home-work-rest boundaries.
You have come to realise that your new or increased fatigue, body aches and discomfort are not just about your workstation set-up, but also about your work-life practices- and it is a tough juggle at the moment.
Working well and safe means having a comfortable workstation set-up, managing your surroundings, paying attention to how you work, and being in harmony with your life outside work.
After speaking to, hearing from, and reading about people who have problems with their home-working space and practices (or lack of), it reinforced to me that organising a comfortable and conducive work set-up is not an intuitive process.
Internet searches for tips and how-to's often bring up answers that is more geared towards furniture and equipment, and less about whole-of-life aspects (exercise and physical activity, nutrition, stress, sleep and rest) that have as much and often more impact on health and productivity.
There is also an overwhelming amount of different information that is not complete or does not apply to you and your unique home situation.
I created this course to cut through the noise, and to have the information you need in one place.
This is a self-directed course of active learning and application. It will:
take you through the process and principles of setting-up,
help you recognise and reduce relevant health risks,
guide you to work through problems and limitations, and
direct you to a range of solutions and strategies that you can implement,
to transform a place in your home into a workspace that promotes well-being and performance, and that best fit your work needs, household situation, and lifestyle.
There is NO one-size-fits-all solution or a single formula that suits everyone.
I recognise the nuances and differences in each person's circumstances and have designed the course to facilitate a systematic and tailored pathway to setting-up. There are exercises, activities, and resources to help you apply the content to your context.
The framework of the course is based on a whole person approach. 
It includes advice on the physical and environmental components of a workstation, addresses organisational, behavioural, and lifestyle factors, accounts for the individual context and explains the WHYs behind the guidance.
You will come away from the course with the understanding, skills, and confidence to identify, assess, and manage your own risk factors no matter where you may set-up to work. On top of that, you will be equipped with knowledge and tools that support you to build positive health behaviours and practices.
Are you ready to prioritise healthy AND productive home-working?
This course is for:
anyone who works from home (even if occasionally),
those who started working remotely since the pandemic,
anyone who has a flexible and hybrid work arrangement, and
any company with employees who have been or will be working from home. This is an appropriate health and safety education course, and a good addition to your employee orientation or onboarding journey. It is also suitable as a training component prior to conducting a risk assessment process.
Content in this course is informed by regulatory guidelines, medical and health information, expert advice, scientific evidence, and my own training and clinical experience as a musculoskeletal physiotherapist.
*This course is not available to purchase by residents in the United States of America (USA), Canada, Australia, and the European Union (EU). If you are from these countries and would like to have access to a similar course or service, please feel free to email me and I will do my best to direct you to providers in your country.
Want to know what is covered in the course?
1- Know the regulations
The relevant regulations in the United Kingdom (UK) governing digital screen equipment (DSE) workstations will be introduced.
Sections of the regulations relating to employer responsibilities with regards to the home/remote worker and the associated health risks with DSE use will be highlighted.
*This is UK public sector information licensed under the Open Government Licence v2.0.
2- Pain, posture, and ergonomics
This module explores and examines your understanding of the function and factors of pain, common beliefs surrounding working posture and what the role of ergonomics is- (spoiler: they may not be what you think!).
3- Finding your space and paying attention to your environment
The word 'space' has been chosen deliberately instead of 'office' as not everybody will have a designated room. The aim is to guide you to find a space/spaces that can work for you.
You will be taken through a series of prompts to help you figure out the best space in your home taking in account your needs for the type of work you do.
Environmental factors of lighting, temperature, humidity, air quality, and noise will also be covered in this module.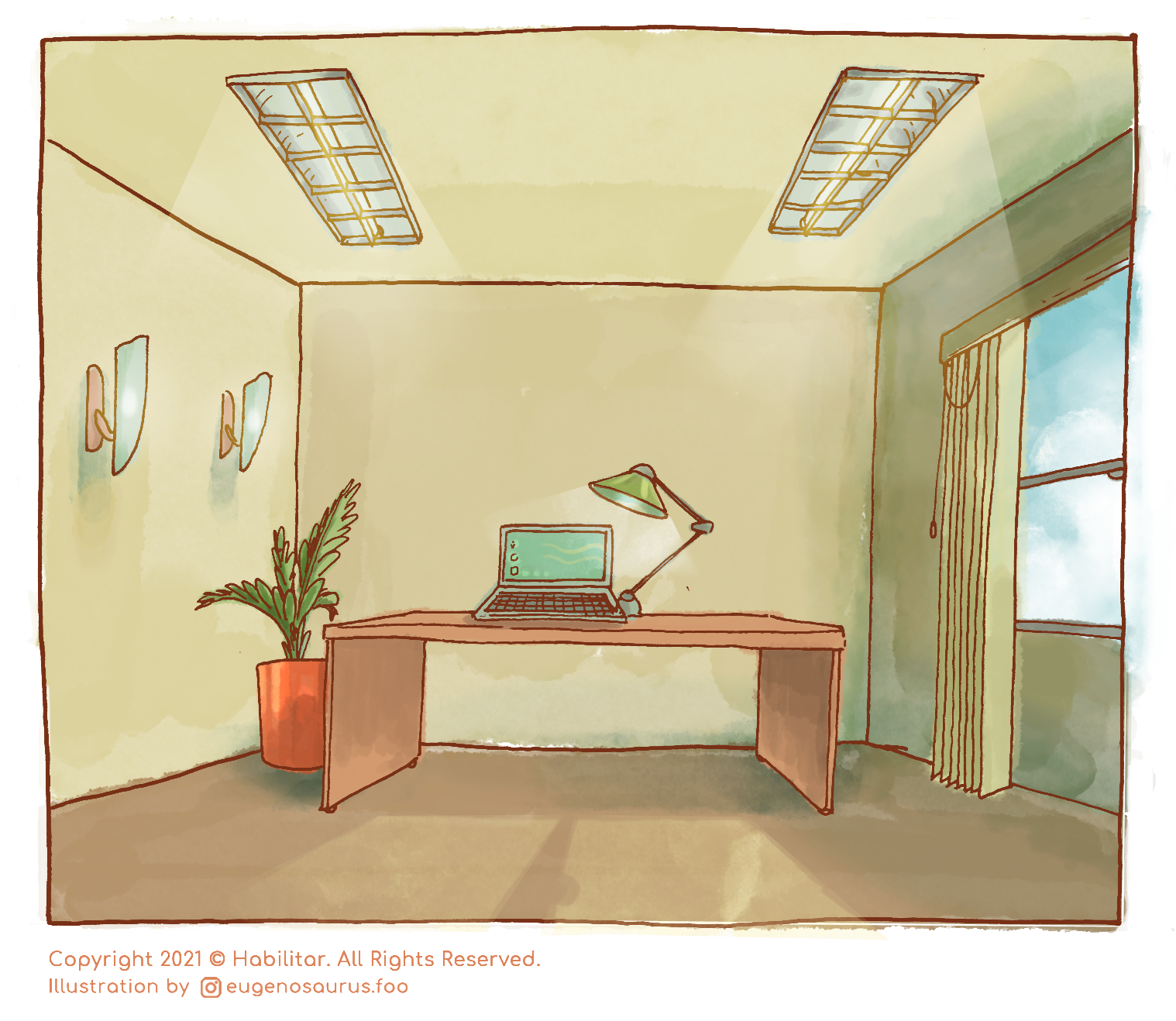 4- What equipment do you have, what do you still need, how do you use it, and how do you put it all together for YOU?
This module will cover details relating to the physical components of a workstation- chair, table, display screen, mouse, keyboard, software, document holder, foot rest, etc.
You will then be able to go through the process of putting these together in a way that fits your individual context.
Factors of budget and space are considered, with practical solutions presented- including making the best of what you already have.
There will also be discussions of alternative seating equipment and sit-to-stand desks.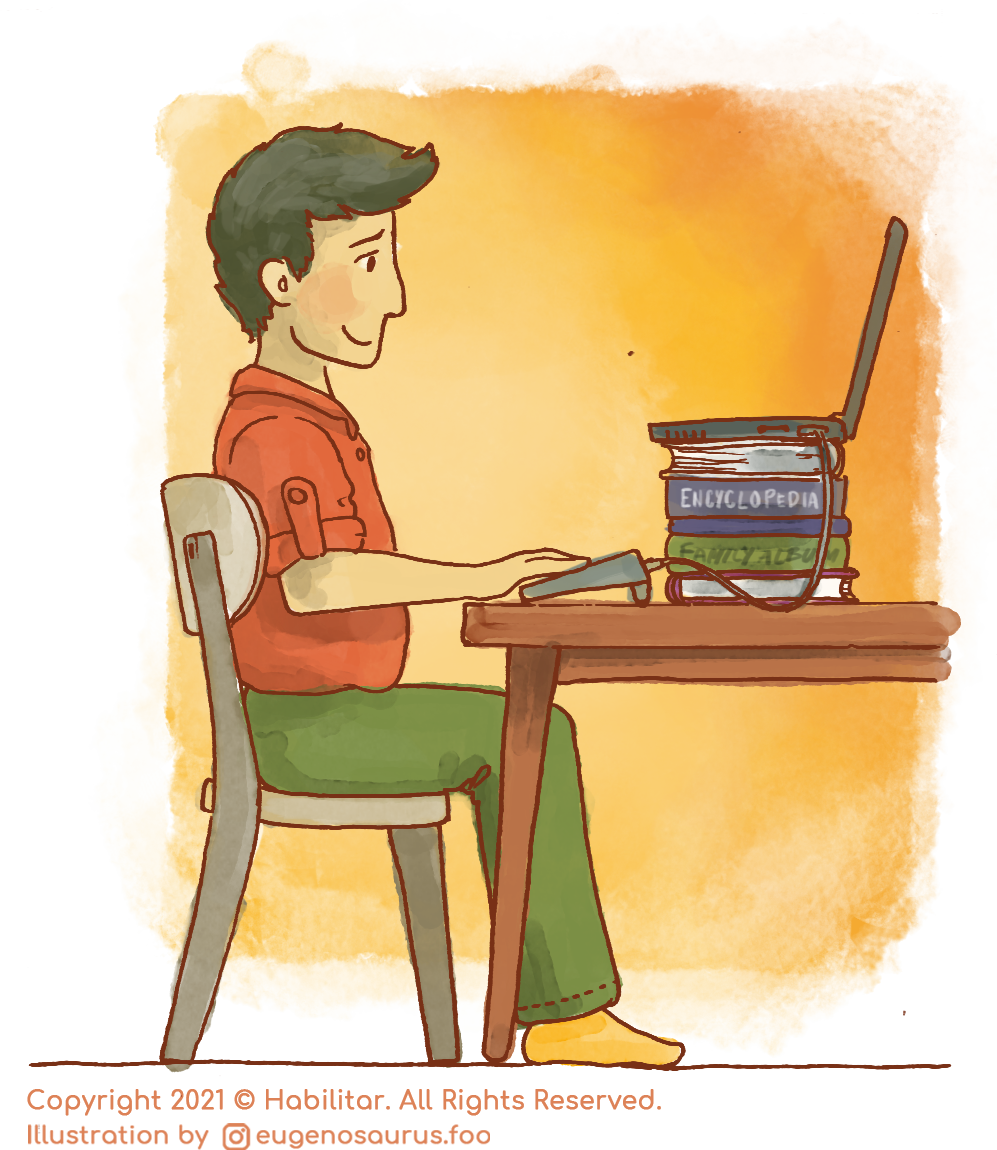 5- Portable and hand-held devices
Using hand-held and portable devices, hot-desking, sharing workstations, mobile working and travelling for work are all part of modern working routines.
Guidelines and guidance to these will be covered here.
6- How do you organise your work and take breaks?
Work breaks and organisation of work will be the focus of this module.
Practical, easy, fun ideas and suggestions will be given for the different types of work-breaks recommended.
I will also share some of my favourite 'work-break' exercises that you can integrate immediately into your work routine.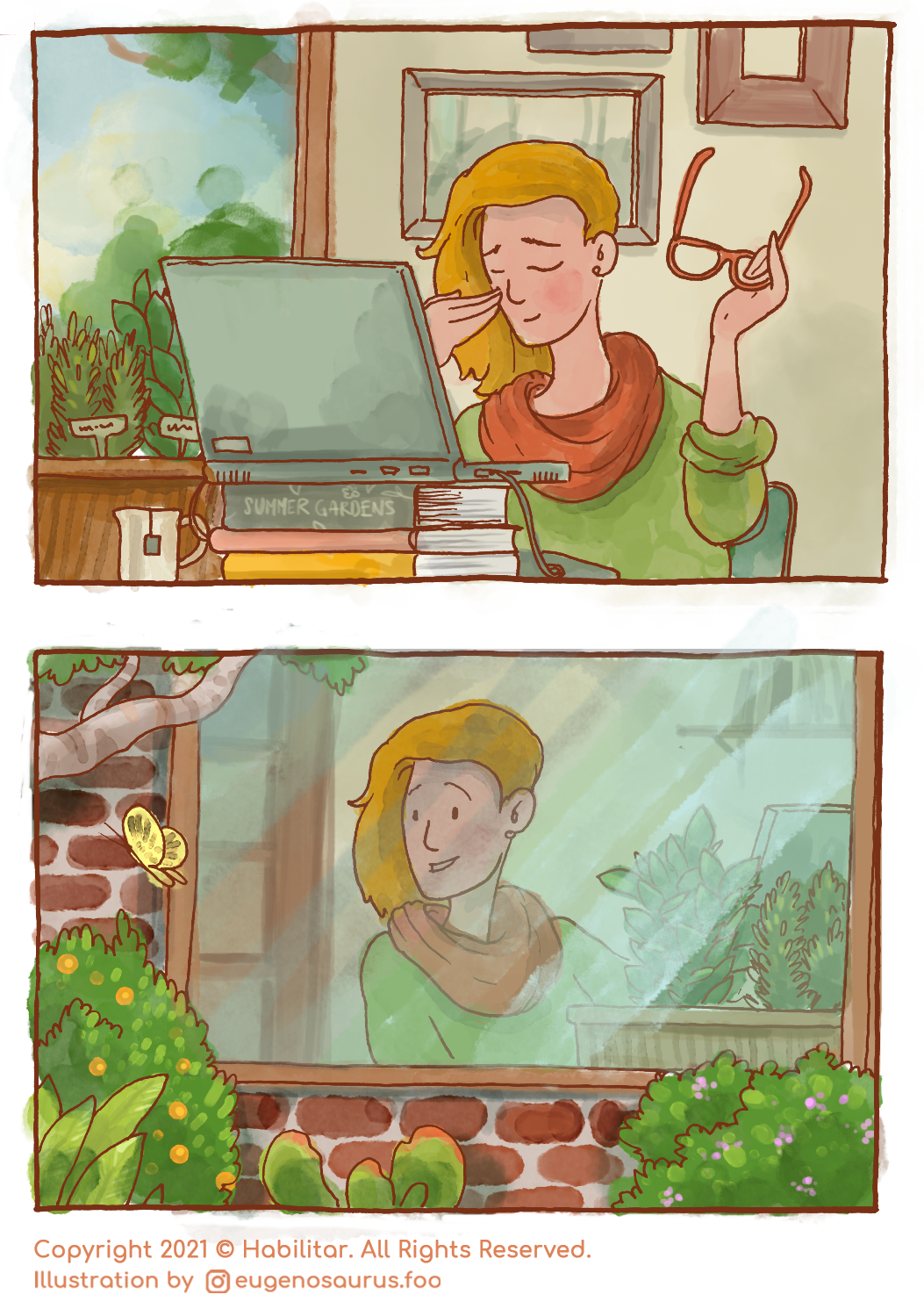 7- Lifestyle influences- looking after your physical and mental well-being
"We are not just working from home, we are trying to work at home in the middle of a global pandemic"- the content of this module is driven by this quote that I came across on social media.
Factors of physical activity, stress, and sleep are introduced here within the setting of pain and health as well as against a backdrop of additional pressures because of the pandemic.
This module provides useful tips, strategies, and advice for every person and everyday life.
8- Takeaways
A summary of the most important take-aways from the course will be presented.
9- Quiz
There will be a few case studies for you to work through. It is not a test, just something to help you check, apply, and consolidate your learning.
Bonuses
A home-working risk assessment checklist will be provided for you to be able to self-assess your home workstation and working practices so you can identify areas for change.
Quick reference guides (downloadable)
A set of infographics will be made available for you to save, print, and share with your family and friends.
Other important information
You can start whenever you are ready.
This is a self-paced course without one-to-one feedback.
Although content of the course is structured in a linear manner, each module can also be accessed as a stand-alone lesson depending on your learning style and the stage of your workspace set-up process.
The course is estimated to take UP TO SIX HOURS (organised in 20, 30 or 40 minute blocks with built-in breaks). There are tasks, activities and review of additional resources that may add to the time taken to complete.
You will have on-going access to the course (and any updates) for ONE YEAR from the date of purchase.
The course uses a blended multi-media format: written, audio, animations, exercise videos, reflective and actionable activities, and resource lists.
About the instructor
I am a physiotherapist who has more than 15 years of experience treating patients with musculoskeletal disorders.
Throughout my career, I have been a strong believer of preventive health care and have also been deeply involved with health education, health promotion and health communications work.
I have conducted numerous health education lectures to the public as well as to groups within private organisations, written health education articles for an Asian health publication, and provided occupational health consultations to companies and patients alike.
I keep up to date with my knowledge and skills through continual professional development and am always looking to reconcile scientific research to the nuances of an individual context within a whole-person approach to care.
I founded Habilitar so I can provide accessible and integrative on-line health education and consultations, for the purpose of promoting musculoskeletal health and reducing the risk and occurrence of musculoskeletal disorders.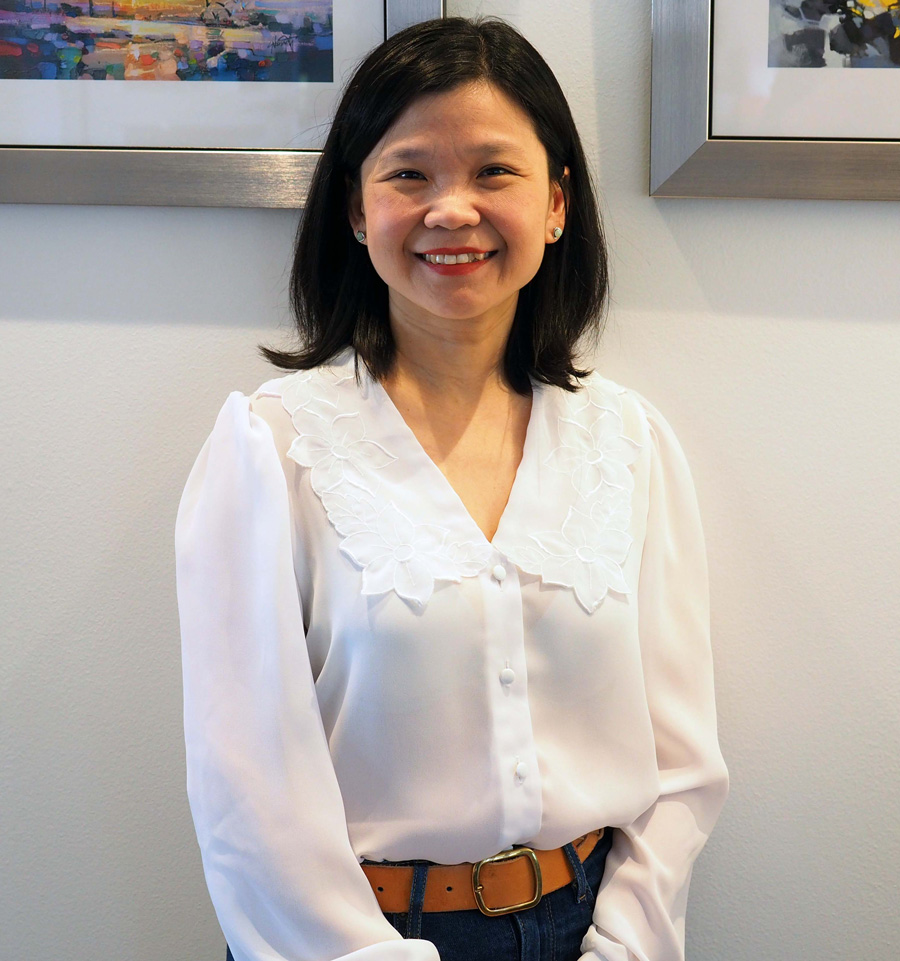 As Li-Yeng's colleague, I am inspired by the way she manages her patients. It is not just about the competency in her clinical work, but the attentiveness, authenticity, and sincerity that she gives to her patients that touched me. 

For the past year, the pandemic has been an incredibly challenging situation for everyone in this world.  We see many clients with musculoskeletal issues that are exaggerated both physically and mentally due to the stressors that comes with the pandemic. 

I am glad that Li-Yeng is emerging creatively out of this crisis, via her current endeavour to launch this timely on-line course to bring musculoskeletal health education to everyone in an accessible and integrative way. 

SY Lee
Li-Yeng is a great physiotherapist and physiotherapy educator.

As a physio, she always demonstrates patience, professionalism, empathy, and compassionate care to all her patients. She would always make sure all her patients were not only treated for their conditions but also given advice on self-management and prevention of a recurrence.

She was a wonderful mentor and educator. She would take her time to make difficult concepts simple and understandable.

A wonderfully compassionate and knowledgeable physiotherapist and educator!

Sharika U.
Frequently Asked Questions (FAQs)
I am pregnant or have a medical condition, is this course safe for me?
If you are an expectant mother, or a new mother, or have health needs, you should consider speaking to your employer to ask them to provide a new or review risk assessment of your workstation.
In addition, they should also provide training and information- you may then like to consider the suitability of this course to serve or complement that requirement. Please contact me if you have any more questions about this.
If you are self-employed and would like to check if the course is appropriate, please feel free to get in touch.
I have a long-term/complex health condition or visual/physical disability or am neurodivergent, is this course suitable for me?
The materials in this course apply to almost everyone but may not be specific enough if you have specialised needs or requirements. It may be beneficial for you to have a formal risk assessment and it will be helpful to speak to your employer (if you have one)- there are specialist providers who may be able to support you.
Please feel free to email me and I will do my best to direct you to useful resources and contacts.
I have pain in my neck or back- will this course help me?
If your pain is associated with working at your workstation then learning to identify the issues and sorting them out will have a beneficial effect. The learning obtained through the course can help with this, but you may also need individualised advice, support and possibly assessment and treatment from a health professional to ensure that you are managing ALL factors that may be contributing to your pain.
The course provides general information and is not a substitute for advice from, and treatment by a health professional. If you have any specific concerns or medical needs, always consult your doctor or health professional.
I do not have any musculoskeletal pain or problems with my workspace, how will this course help me?
It is great that you are doing well and have a working space that works!
As part of the working-well, you can still benefit from this course as it will equip you with knowledge and tools to recognise, reduce and manage risks that may come up in the future.
There is also considerable content that pro-actively promotes health and productivity so you can continue to stay well and safe- and guide your family to do the same.
I do not have a home-office or a dedicated workspace- I am working at my kitchen table until I can get back to my office, will this course be useful?
Yes- the course contains useful advice and tips for those in temporary working spaces, as well as health promoting content that is applicable for everyone in different home-working environments.
Do I need to have space or the budget to buy all the things one needs for a 'good' home workstation set-up for this course to be useful to me?
Not at all. This course offers practical solutions and alternatives that are DIY, low-cost, or no-cost.
There are many other factors other than equipment that is part of a healthy working space, and they will be taught in the course.
I have a good office chair and table but still have pain, how will doing this course help?
Great that you have good equipment- the course will help you assess if the equipment is right for you and teach you how to use them correctly or how to adjust them to fit you.
On top of that, there is so much more that can be looked at in terms of why you may have pain (hint: it is not just your furniture that can cause problems)- and the course covers these other influences as well.
I still go to work at the office- is this course only for the home/remote worker?
Though the course is tailored to the home/remote worker, its content is comprehensive and applicable to any user of digital screen equipment- be it in the office, home, or for mobile and hybrid work arrangements.
If you have questions about the suitability of this course for your context, please feel free to contact me.
Will completing this course mean my home workstation is compliant with the relevant health and safety regulations?
Studying the course will equip you to perform a self-assessment to determine if your home workstation is compliant (a checklist is provided). It then guides you to take the necessary steps to make it so (which may include getting appropriate support from your employer, if you have one). 
Though following the guidance in this course is normally enough to comply with the law, completion of the course itself does not guarantee or certify that your workstation meets the regulations.
In certain situations, you may need a risk assessment by a trained assessor or to consult your employer or other professionals for additional help- the course will flag this up for you.
If you need more advice on this, please do email me.
We are a company/organisation looking to provide health and safety training to our employees- is this course right for us?
If your aim is to provide relevant health and safety training and information to digital screen equipment users within your employment then yes, this course will be able to serve that purpose. 
The course equips one to perform a self-assessment.
If you are looking to provide formal risk assessments for your work-from-home employees, I would suggest having a look at our consultancy packages (available soon), which combines a remote home workstation assessment followed by recommendations, and access to the course.
A range of company services can also be provided, including customising course content to your specific needs. Please email if you would like to find out more. 
Are results guaranteed?
This is an online course that aims to provide health and safety training in managing risks of working with digital screen equipment.
Above that, a main goal of this course is also to deliver information that can help you manage and improve your musculoskeletal health.
In this active self-learning programme, general advice, management strategies and resources will be provided. These are recommendations (based on guidelines, research, my experience, and training) which I believe to be effective, but I am not able to guarantee that it will result in a resolution of your particular complaint or fulfil an expected set of results. 
How long do I have access to the course for?
You will have ongoing access (including any updates) to the course for ONE YEAR from the date of your purchase.
I am not in the United Kingdom (UK), is the content specific to the health and safety regulations in the UK?
UK regulations are used as a reference guide for this course.
If you are outside of the UK, you may need to use or look up the regulatory information from your own country. If you need assistance with this, please email me and I will do my best to help.
However, the issues addressed in the UK regulations are universal and the general principles, guidance, and advice will still be applicable and useful outside of a UK context.
It is worth noting that the course covers a lot more than just regulatory requirements.
Do you provide feedback or a personalised assessment and recommendations?
To keep this course accessible, it has been designed to be self-paced with no feedback given.
A package may be more suited for you if you require or would like to have a formal risk assessment.
In the near future, there will be different levels of consultancy packages; each of which consists of a remote assessment of your home workstation, individualised recommendations, AND access to the course.
I live in Australia/Canada/United States of America (USA)/European Union (EU) and tried to purchase your course, but it did not let me- why?
This course is not available to residents in the USA, Canada, Australia, and the EU due to various administrative reasons.
If you managed to purchase one as a resident of one of these countries, please contact me and you will be refunded in full.
If you would like to find a similar service or course where you are, please email me and I will do my best to direct you to a provider in your country.
I have a different question about this course- can I get in touch with you?
Of course, please email me or use the contact form below.
+Terms and Conditions (T&Cs)
Before you decide to purchase the course, please read the course T&Cs.
You will be asked to tick a box to say that you have read, agree to, and accept the T&Cs before you complete your purchase at checkout.
+Disclaimer
The course is not a substitute for advice from, and treatment by a health professional. Any advice provided in the course is intended to be general information only and that such advice may not be appropriate for your situation or health condition.
If you have any specific concerns or medical needs, please consult your doctor or health professional. Please do not delay seeking or disregard medical advice or discontinue medical treatment because of information in this course.
+Note
Please note that the course may contain links to other websites not maintained by Habilitar. Such third-party websites are subject to their own data protection and privacy practices and you are encouraged to examine the privacy policies of those websites.